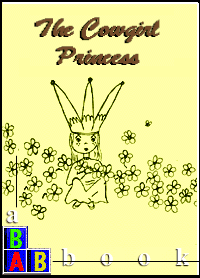 © 1997 Cathy Hardin. All Rights Reserved

Princess Kimi didn't mind wearing her long silk dress, or sleeping on her lumpy bed with the pea underneath.
What Kimi hated about being a princess was her crown. Kimi's crown was so heavy that she had to wear large wooden shoes just to keep her from tipping over.



© 1997 Cathy Hardin. All Rights Reserved

Sometimes the shoes worked, sometimes they didn't. Kimi often ended up head first in the royal flower bed.
It took her hours just to get from the front of the room to her small throne in between her mother's and father's.
"Mom," Kimi said. "All you ever do is ever plan balls, but your crown is so heavy you can't even get off your chair."
"I would like to dance," the Queen sighed. "Your father and I haven't danced in years."
"Mom, I don't want be a princess all the time. Could I take the day off?"
"I don't see why not. In fact your father has to meet the Duke of Tumble Weed anyway, we'll go with him." Kimi took off her crown.



© 1997 Cathy Hardin. All Rights Reserved

"It's so hot," The Queen said as she stepped out of the coach. "Mom, take off your coats," Kimi said.
The King just smiled.
Tumble Weed was different than Kimi's home. It had no woods, fairies, or stone houses.
Tumble Weed had dusty roads, wooden fences, and lots of cows.



© 1997 Cathy Hardin. All Rights Reserved

Kimi and her parents were taken to a clothing store and each were given jeans, a fancy cow boy hat, and boots.
They then went to the Duke of Tumble Weed's ranch. Kimi thought the Duke would be happy, but he looked very sad.
"Your Highness, why are you so sad?"
"Shush, don't be so rude," said Kimi's father.
The Duke stood up. "She's not rude. I called for you to come help me. My son Hank is being held prisoner by the awful fire breathing bull." "I will stop him," Kimi said.
"Whole armies can't stop him," the Duke said. "How can you?"
Kimi's parents grew very tired and fell asleep in their chairs.
"I guess I'll do it myself." The Duke left to find the bull.
Kimi followed him out down the dusty road. She passed a water pump and a stack of tin cans.



© 1997 Cathy Hardin. All Rights Reserved

By a large cactus was the dreaded fire breathing bull. He was gray with red eyes and giant horns. The bull moved in front of a locked pen. Hank looked at Kimi from the other side of the pen.
The bull smoked up the Duke's clothing. "I'll burn you down, if you take one step to the pen."
The Duke hung his head. "Okay, what do you want?" "I want everything you have. I want to be the Duke and pen you up like a cow!"
"Don't do it Dad," Hank said.
"I have no choice."
Kimi wasn't going to let the bull win. She went to the water pump picked up one of the old tin can. Kimi pumped the water in. "I'll put his fire out."
Kimi walked right up to the fire breathing bull and threw the water right in his face. The bull was angry. "It will take me day's to dry out," he yelled. He ran after Kimi, but went head first into a cactus.
The bull, who no longer was fire breathing, moaned and groaned. "I give up."



© 1997 Cathy Hardin. All Rights Reserved

The Duke unlocked the pen. "Thanks for freeing me." Hank shook Kimi's hand.
"I'll give you anything you want Princess Kimi."
Kimi smiled. "Could you ask my parents, if I could wear this hat instead of my crown, when I get back home?" Kimi suddenly felt happy being a princess and couldn't wait to get back home to her lumpy bed with the pea underneath.
THE END