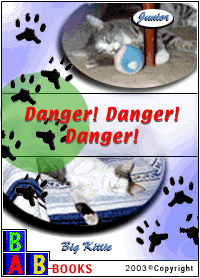 Big Kittie


Junior

We are Big Kittie and Junior. We were adopted by our family. We were what people call stray cats.
Stray cats just need a little LOVE. They are always in DANGER of being cold and hungry.
This book is about PET responsibility. We tell it to you because we are CATS and we know the story best!
Read along with us and let us know how you like the book. We have put our photographs in the book. We want to become the poster boys for RESPONSIBLE PET ADOPTION!
Love you!




Big Kittie


Junior

One day we noticed that outside our comfortable room, we could see at least seven cats who did not have a home.
They wander from home to home, coming out from under the porches of peoples' houses.
They are hungry! We can tell, we know those things because we were once cats that someone dropped by a roadway.

We found our way to a home. At that home, we found an angel named CINDY. She gave us milk and cheese. We began to have all the food we could eat.
When Cindy came, we knew that we could come up to her and trust her. She loved us!
Cindy lived in a different town. She went and got her mother, Mrs. O. Mrs. O and Cindy plotted to see if they could find a way to transport us to our new home.




Big Kittie


Junior

One day when ice was all over the ground, they drove up. Junior was cold and wet. His feet were almost frozen to the ground. He was hiding in a pipe across the road. I told him to stay with me. But, he would not listen.
Cindy and Mrs. O drove up and they got us in boxes. We were scared to death. After all, no one had wanted us before!
We went a long way from Tiny Town to the Big City. Finally, they let us out in a big room. They told us that they loved us and this was our new home.

The next day, we had a visitor come to our new home. Junior was really scared. Of course, I was VERY brave.
Junior says to tell you that he knew that I was scared too!
It was the vet. The vet gave us shots, cleaned us up, and gave Mrs. O some paperwork. We were sure glad that she was gone!
After the vet left, Mrs. O and Cindy spent some time rubbing our heads and hugging us. They loved us.
Junior and myself were now part of the LUCKY breed! We had a home. We had a home with a lot of LOVE. These people were going to take care of us.
Every morning before Mrs. O or Mike (our human brother) went to work, they would set out fresh water for us. They would clean out our litter pans. They would put out about a half cup of food for both of us.
Junior says to tell you that sometimes he would overeat and get a sick stomachache!
But, I, the Big Kittie, would now use that time - HOME ALONE - to explore. We went all over the house.

We loved it. We had lots of room. We had food. We had love.
The humans worked. They worked so they could earn money for CAT FOOD. We knew when we saw that large brown bag come in that we were getting either food or some sort of toy.
Junior says to tell you that we both had lots of toys.
One day, we moved to a new house. This house gave us an end room of our own. Beneath the beds, we had our little sleeping areas. On top of the big day bed, we could watch out the window all day long.

It made us very sad that so many of the cats outside told us a sad story of being dropped at that homesite. They had been outside almost 3 winters. They had been very cold.
Junior says he sure remembers when his feet were almost frozen that last winter before his adoption!
Junior says to ask you if you have ever been very cold. Maybe when you were outside playing in the snow!
Cats' feet get cold, too!






We want all cats to have good homes. We want all pet owners to be responsible, like our pet owners. In fact, Mrs. O, Mike and Cindy never say they "own us." They say to human people that we are part of the family!
Because we are part of the family, we get good medical care and good food. We get a nice room with a view. Junior says to tell you that the LOVE is more important than anything!
Outside our window is a cat that Junior and I call Big Mo! Big Mo is just a kitten herself. But, she has had two litters of kittens. I can see her rib cage. She is VERY thin!
Everyone adopts her kittens because they are really cute. But, what about Big Mo? This is her second winter in the cold. She sits beneath a porch across from our house.
Junior is just sure that she can't take another year or another litter. But, who will help her? Who will help all the stray kittens and cats?
Junior and I began an education program. We write books for various sites on the internet for children to read. We hope that they will take away the idea that you have to be "responsible" pet owners!
Junior and I have one book that we call "Adventures in the Wild." If you take a look at that book, you will see that we have gained a little weight.
Junior says that maybe we need to do a weight loss book. Maybe we can do an infomercial for "cat aerobics" or "cat watchers."
Of course, I have to admit that it is very hard exercise for me to jump up on that day bed to watch out the window. I try to just do it a couple of times, and then I have Mrs. O lift me up. That way I get a little hug and kiss on the way up!
If your family has enough love to share with a cat or even a doggie, go to one of the local organizations for help! Adopt. But realize that when you adopt, you have to be a responsible pet owner!
Make a list on this page of your book of all the things you need to do for your pet. Junior will start you out:
FOOD
WATER - fresh water daily!
VET CARE - every year
Now you take over. What can you think of?
Maybe your mom would tell you that part of being responsible is taking out the litter or going to the grocery store to buy the litter. There are lots of things that can make you a responsible pet owner.
Junior wants to speak to you about the fact that I forgot something. You need to have pets spayed or neutered! That is VERY important!
Give yourself an A grade if you thought of this point! Junior says you get an A+.
Thank you, Junior. Of course, Junior is right. Unless we see that animals can't reproduce in large numbers, we will always have a problem with over-population.
Our mom, Mrs. O, is working VERY hard to see that Big Mo finds a home before this winter hits.
When Mrs. O, Junior, and I are laying on the big bed in our room, looking out our window, we sometimes talk about all the poor animals that have no home and no one to love them. It makes us VERY SAD!
Junior and I have enough to do. We have a job. We wait for Mrs. O or Mike to come home from work. We sit beside them on the couch. We cheer them up. It is hard work!
We wish we didn't need to be writing books to educate people about pet adoption. But, we do it. We do it so that we can raise funds for all the cats to be spayed or neutered. We do it so that cats and kittens and even those little dogs and puppies get adopted!
Can you help us? Can you tell people about all the animals who need care? Can you tell them what they can do to be responsible pet owners?
We are depending on you!
Junior says that he is going to take a break and lay in the sun. But, he will be thinking about our next book.
We think that we will do a mystery. The case will will focus on is from a 1999 mystery. We will call that book "CAT NAPPED from Tiny Town."
Watch for our NEXT book and encourage others to read this book. The authors (Biggie and Junior Olinger) have donated all proceeds of this book to an organization that helps those animals who are not as lucky as we are!
Till then - thank you for reading our book! Have a paw purr----fect day! We love you!



THE END

Be kind to your pets.
Get them good vet care.
Make sure that they can't keep having kittens!
We love you. We know you care!
Please encourage others to read this book.