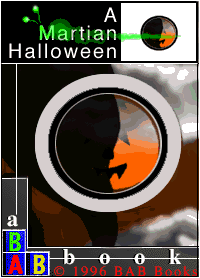 My friend Andy and I
are on a mission,
we're flying to earth
on a Halloween expedition.We've heard some stories
so we just had to see
what all the fuss
has got to be.
We've never had anything
like this on Mars
or on any of the planets
up here with the stars.I'm a little bit nervous
about what we will find,
you never know what goes on
down there with mankind.
I've heard tales of goblins,
witches and ghosts,
but those blood sucking vampires
scare me the most.They say that in graveyards
if you see an open tomb,
you better run fast
before you meet with your doom.
Why would earthlings
celebrate such a day?
If it gets to be scary
I don't think we'll stay.We're getting ready to land now,
I hope no one's near.
My friend's all excited
but all I feel is fear.
We just touched down
in a very dark place,
Andy started laughing
at the scared look on my face.He opened the doors
and jumped to the ground,
everything was quiet,
we didn't hear a sound.
We covered our space ship
with branches and leaves,
then ran through the darkness
like two guilty thieves.I was running so fast
I couldn't see a thing,
the branches hitting my face
gave me quite a sting.
I called out to Andy,
but he was no where to be found.
I was scared and alone
and could feel my heart pound.What should I do now,
where do I go?
If Andy were with me,
he sure would know.
I see lights up ahead!
Maybe he's there.
But it's what else I'll find
that's something to fear.What is this night
called Halloween
with more goblins
than I've ever seen.With witches and ghosts
flying through the air
trying to give me
a terrible scare.
Who are these little
monsters with bags
all dressed up in
costumes and rags?Why are they knocking
on everyone's door,
and checking their bags
to see who has more?
Why does the sky
look dark and scary
and the clouds passing the moon
look so eerie?I hear a howling
this Halloween night
and I know that it's meant
to give me a fright.
Someone is screaming
and crying out moans
and the wind blows so hard
it is chilling my bones.Now I hear footsteps
following me,
but I can't turn around,
who could it be?
I'll try to walk faster;
maybe it'll go away,
but I had heard this
could happen on Halloween day.What ever it is
I can hear it crunching,
it might be an earthling;
this monster is munching.
I just saw his shadow
go past the tree.
It looks like this monster
is much bigger than me.I'll bet he has three heads,
each with one eye
and if you look into all of them
you're sure to die.
His steps are getting louder,
he's getting close.
He must be
ugly, slimy and gross.Why did I ever
come to this place,
I should have stayed up there
in outer space.
What do I do
if he tries to eat me?
I've heard monsters eat
anything they happen to see.Where is my friend
I was traveling with?
When I tell him my story
he'll think it's a myth.
I hope it's not him
the monster is eating.
We shouldn't have come down here
to see trick or treating.Now it seems quiet,
I don't hear a sound.
It seems that the monster
is no longer around.
But what is this hand
that just touched my shoulder?
It's got me so scared
that the air feels much colder.I can't seem to move,
I'm frozen with fear,
the monster kept munching
right in my ear.
Please don't let him eat me,
I started to pray.
Then the monster started mumbling
like he had something to say.I turned around quick,
the monster was Andy,
stuffing his face
with a bag full of candy.
It seems the earthlings thought
he was one of their kind
and they invited him along
so he didn't mind.They said he had the best costume
they'd ever seen,
he looked like a real Martian
with his skin so green.
So he went trick or treating
and got a bag full of treats.
He made lots of new friends
who were covered with sheets.
He told me he carved a pumpkin
and put a candle inside.
He said he met Frankenstein
and his new blushing green bride.They all bobbed for apples
and Andy's costume won first place.
When everyone asked where he got it
they laughed when he said "outer space."
I wish I was more like Andy
and not so afraid to have fun.
I missed out on all the good things
and now Halloween is all done.We boarded our ship and Andy went on
about all the things that I missed.
Next year I'll come back
and do things differently I wished.Maybe I'll volunteer for the next mission
to observe human living.
I'd like to find out why turkeys always hide
on what earthlings call Thanksgiving.
| | |
| --- | --- |
| | The End |