A Small Dream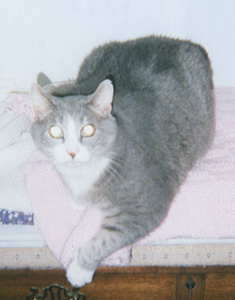 Our family lives in a mobile home.
We are just like everyone else.
We have our dreams.
We have all things that the rich cats have in their lives.
Sugar says, "Do we have enough money for each month?"
Junior answers: "We do. But we have to budget."
Tiger asks, "What is a budget?"
Junior replies, "A budget is something a family has to write out to make sure they have enough money each month for the lot rent or mortgage on their home, electricity, water, etc. All the things that are a necessity in life.
"Then, if a family is lucky, they will have money for things like movies."
Sugar complains that she hasn't seen a movie in a long time.
She likes to have the television on and hear Dr. Phil. She doesn't agree with all his advice, but she likes his voice.
Tiger likes to hear Oprah. She really likes all the topics.
She is waiting on a show where cats that are authors of books get their chance to tell their story.
Junior thinks they will just be waiting a long time for that one.
Besides, they hate trips to the vet. They surely wouldn't like a trip on a plane to see one of the talk show hosts.
| | |
| --- | --- |
| | "Well," Sugar says, "I hear they have satellite where they can come to our town and interview us." |
"Do you think people really care about us? After all, we were all adopted early on in life," Tiger asks Junior.
Junior thinks about the subject.
I hope that people are learning that you can live in a mobile home or a luxury home and still be a good person.
You can still give back to your community. You can still care about other people who don't have a much as you do.
For instance, we have good vet care on South Main Street in our town. We have great food. We have a loving family. A mother who types our stories for the kids to read. We volunteer to help the shelters and those looking for families for cats or pets they call "strays."
"We are pretty lucky." Sugar and Tiger shake their heads.
"Our human mother gives us a bath, washes out our ears, dries us off and loves us."
"I can't wait for her to get home from work. We sit here watching out the window guarding the house till she comes home each day," Sugar says.
"That is a big job. We all ought to get paid more or go on strike."
Junior says, "We love all the kids who read our books. We love to hear from you."
"We hope that you know you can be anything in life – no matter what your background. You can be a star at something in life."
We have some of our current photos.
Do you have lots of pictures of your family?
Do you live in a mobile home, or some people still call them "trailers?"
How do you fix up your room?
Our human mother made me two carts and padded them with nice warm blankets for wintertime. They are under the day bed in the back bedroom that is our human sister's room.
The girls sleep in a large basket. It has lots of old pink baby blankets. They are soft and both the girls love to snuggle in those blankets.
About every house has things that you like about it. The walls of a house may not be the same. The outside of the house may not be the same. But all the kids inside have the same dreams for their lives.
How about you? What do you like? What are your dreams? What is your house like? What is your friend's house like?
We will see you sometime in the future in another book. Let us know if you like our books. Have a PURR-FECT day!
Love,
Junior
Sugar
Tiger
Our books are dedicated to Big Kittie.
| | |
| --- | --- |
| A Small Dream | THE END |